2021 Jaguar F-PACE vs. Lexus RX

Due to the recent growth in popularity, luxury shoppers now have more and more choices within the midsize luxury SUV segment. As you've begun your search for the right midsize luxury SUV, it's only natural that the dynamic Jaguar F-PACE has caught your attention. Whether it's the striking styling, thrilling performance, or innovative tech features across the F-PACE lineup — more and more drivers are making the switch to Jaguar. If you're still not convinced that the F-PACE is the right choice for you, we've created this head-to-head comparison against one of its top rivals. Once you see exactly how the Jaguar F-PACE stands up against the Lexus RX, you'll understand why the F-PACE continues to set the benchmark for its class.
Jaguar F-PACE vs Lexus RX
| | | |
| --- | --- | --- |
| 2021 Jaguar F-PACE S P340 AWD | VS. | 2021 Lexus RX 350 F SPORT AWD |
| $59,395 | MSRP | $50,100 |
| 335 ✓ | Horsepower | 295 |
| 354 lb-ft ✓ | Torque | 267 lb-ft |
| Standard ✓ | Limited Slip Differential | Not Available |
| Adaptive Dynamics with Configurable Dynamics ✓ | Adaptive Suspension | Not Available |
| 20 / 27 / 22 ✓ | MPG (city/hwy/combined) | 19 / 26 / 22 |
| InControl Navigation Pro ✓ | Navigation System | Optional |
| Standard ✓ | Wireless Charging | Optional |
| 11 inches ✓ | Touchscreen Display Size | 8 inches |
| 3D Surround Camera ✓ | 360-degree Camera | Optional |
| Front/Rear Parking Aid ✓ | Parking Sensors | Optional |
| Standard, 1st/2nd Rows ✓ | Power Sunroof | Optional |
| Standard ✓ | Heated Front Seats | Optional |
| Genuine Leather ✓ | Seat Upholstery | NuLuxe Leatherette |
| 69.1 cubic feet ✓ | Max Cargo Volume | 56.3 cubic feet |
| 5 Years / 60,000 Miles ✓ | Basic Warranty Coverage | 4 Years / 50,000 Miles |
| 5 Years / 60,000 Miles ✓ | Complimentary Scheduled Maintenance | 1 Year / 10,000 Miles |
Scroll Right to View Information
As we begin this comparison, shoppers might notice that the Lexus RX 350 F SPORT has a modest price advantage over the Jaguar F-PACE S. However, as we take a closer look at the details, choosing Lexus will actually end up costing you MORE in the long run.
The first category that we'll investigate is the performance of both SUVs. Although both come equipped with 6-cylinder engines, the F-PACE S boasts significantly higher horsepower and torque ratings than the RX 350. Better still, Jaguar also includes a standard torque-vectoring limited slip differential along with an adaptive suspension for greater control across all speeds. If you're thinking that this sizable power advantage means sacrificing efficiency, guess again! The F-PACE S is able to deliver greater city and highway fuel economy compared to the RX 350.
Shifting our attention towards the interiors of both models, the gap between the F-PACE and RX 350 only seems to grow larger. Most glaringly, many of the key features of the F-PACE S that are included as standard are only available as expensive options on the RX 350. Examples include a navigation system, wireless smartphone charging, and a power panoramic sunroof. By the time you select these options at Lexus, the MSRP of your RX 350 is growing rapidly.
A larger 11-inch touchscreen display included as standard with the Pivi Pro infotainment system offers a more streamlined view of key apps and media. Cutting-edge driver-assist features help enhance your drive behind the wheel of the Jaguar F-PACE. You'll have access to standard features like a 3D Surround Camera along with front/rear parking sensors to help take the guesswork out of parallel parking.
If luxurious comfort and premium interior amenities are important to you, look no further than the Jaguar F-PACE. While Lexus shoppers will have to settle for imitation NuLuxe synthetic leatherette seats, the F-PACE offers the supple feel of genuine leather upholstery as standard. Its standard heated front seats help make chilly mornings much more bearable as well. Thanks to its significantly larger cargo capacity, the F-PACE is also the superior choice for those who enjoy taking extended road trips as well.
Last but certainly not least, Lexus simply cannot measure up to the value and peace of mind that comes standard with every Jaguar F-PACE. The Jaguar basic warranty coverage exceeds that of Lexus by a full year and 10,000 miles. Furthermore, Jaguar includes complimentary scheduled maintenance coverage for 5 years or 60,000 miles, whichever comes first. Lexus only covers your first maintenance visit.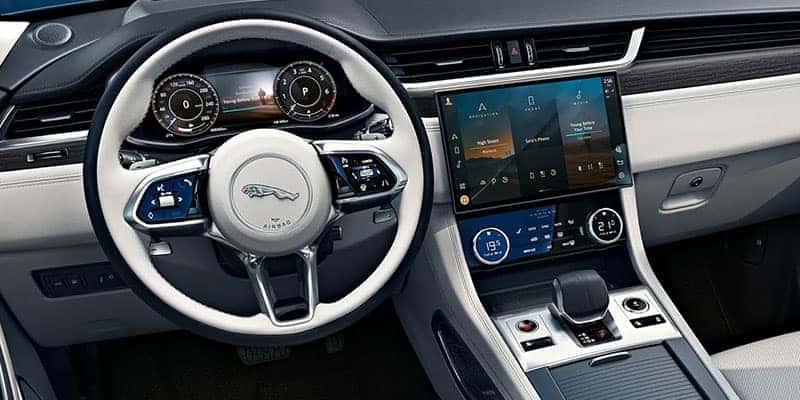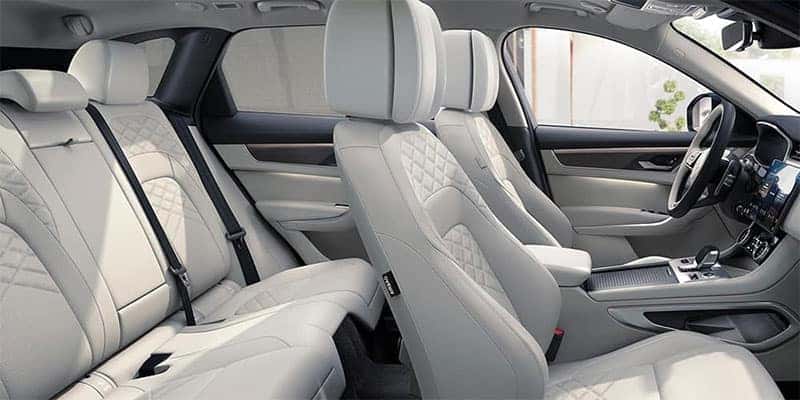 Winner – Jaguar F-PACE
Now that we've tallied the results, the obvious winner of this luxury SUV comparison is the Jaguar F-PACE. The Lexus RX 350 is simply unable to compete with the tremendous performance, value, versatility, and premium standard features found across the F-PACE model range. Ready to experience the F-PACE for yourself? Our team at Jaguar Louisville is standing by to help you choose the model that's perfectly suited to your personal tastes.